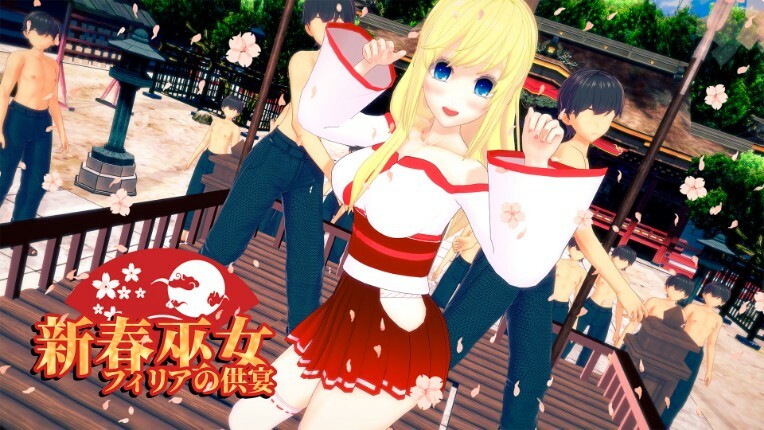 新春巫女フィリアの供宴 (コイカツ ; P12)
Happy new year 2020!
[支援者限定 Exclusive Content]
https://www.patreon.com/posts/32748485
https://www.pixiv.net/fanbox/creator/438009/post/742482
"Thanks for supporting. We can't do the work without your help.
I would devote my love concubine to our highest.
Hope's that won't be any disaster again.
God bless us.
Dragon Slayer - Ragnas"
"感謝各位村民協力,沒有你們相助我們難以消滅惡龍。
現在我把我最愛的小妾獻給神明
願龍神熄怒,神愛世人
屠龍勇者 - 拉格納斯上"
...
This supposed to be no story. And... after I switch the girl for publish ver... 
The original one is made for friend. But I think it's not ok for sharing my friend's card to public. Then switch, this process isn't so long.
OK. I match this with NTRPG2 as this girl supposed to be NTRPG2 Filia.
這套圖原本是沒打算有故事,但我改用了這個女孩。
原本這東西是給友人作的,但是公開友人的老婆給大家開幹好像又不是太好。那只好換人吧,反正用的時間也不會太多……
OK,這女孩原本就是作為NTRPG2的菲莉雅,那就把故事設計成NTRPG2吧。
★ Twitter - https://twitter.com/wingr2000 ★
★ If you enjoy my work, supporting me on Patreon / Fanbox (R-18) ★
https://www.patreon.com/wingr2000?ty=h
https://www.pixiv.net/fanbox/creator/438009
https://www.hiccears.com/artist-profile.php?apid=24979 (For China Users)