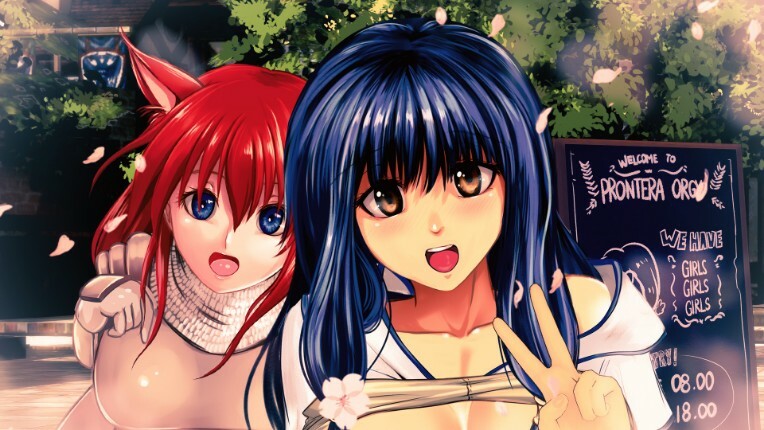 プロンテラパーティー (基本8枚 ; 総CG16枚 )
[Reward]
https://www.patreon.com/posts/34165895 
https://www.pixiv.net/fanbox/creator/438009/post/841500
This is textless image set (half set variant).
It already spent almost half of Feb. If writing a story for this. It properly full Feb process the same set images...
Pixiv ver. would remove most of mob girls.
This image actually not supposed to be image set.
1 - This may good for the Discord Server promote. So select this one.
2 - Make more girls at the pictures
3 - PARTY
4 - FATALITY
So it become 16 pictures. If I do every variants liked cumming and clothes on off. It properly can be around 25-30 pictures.
Just make this more simply...
This set has many many reuse materials. Only the hunter girl (Aurea) is new work. Professor chan is just appeared at the GMA manga. And the cat ear girl (Kiwi). If you read my gallery this is old work too.
I try to use all this things and make the Orgy more exciting. :D
...
And the board at the image has typo... It delayed for a period. I don't want to delay this anymore.
If you open the reward zip file you would found out there is 2009 ver.
I'm lazy to draw Prontera Plaza. Till someone make Prontera mod for KoiKatsu. :D
[中國語]
這個是無文字的套圖 (約一半是差分形式表示)。
差不多制作了半個月了……如果再寫故事的話,大慨整個月都是在作這個作品的了。
Pixiv版本會把NPC角色都丟了。
這個圖原本並不是那麼大容量
1- PRONTERA廣場看來很好作成DISCORD SERVER的宣傳圖
2- 加入更多女孩
3- PARTY!
4- FATALITY!
結果愈弄愈大,如果每個場景都加入差分,大慨是可以漲至25-30張的。但是這回就算了……
雖然一半不是差分,但大半圖都是用以前作成的圖來制作。結果而言只有女獵人(AUREA)是新圖。智者最近才發過圖,我想大家也記得她 ; 而紅髮貓耳 (KIWI)是很久以前的圖。
就3個RO女角再配些KOIKATSU NPC。
PARTY!
...
圖中的看版是串錯字……不過這個圖已經延長了1-2星期了,我不太想再修這個,又要多花一更時間才修正文字。
另外如果你開了REWARD的檔案,大慨看到女獵人是有2009年版本。這個圖其實是很舊的了……我實在懶得畫PRONTERA廣場。後來有人把PRONTERA導入進KOIKATSU。
太讚了!
★ Twitter - https://twitter.com/wingr2000 ★
★ If you enjoy my work, supporting me on Patreon / Fanbox (R-18) ★
https://www.patreon.com/wingr2000?ty=h
https://www.pixiv.net/fanbox/creator/438009
https://www.hiccears.com/artist-profile.php?apid=24979 (For China Users)