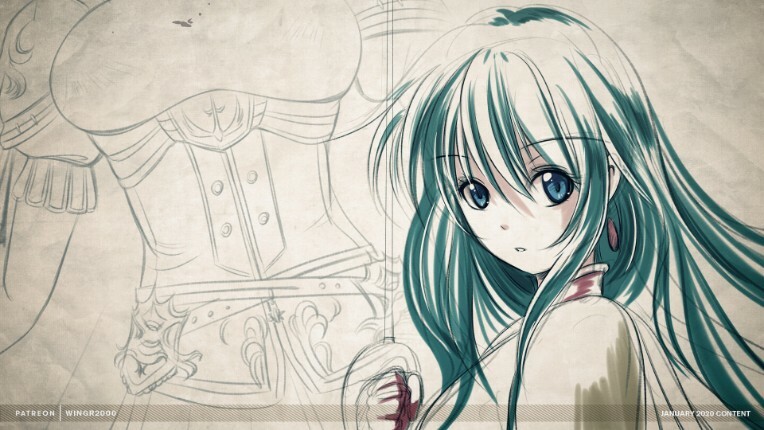 Eirika (Rough Drawing ; 4P)
エイリーク (ラフ画 ; 4P)
[Reward]
https://www.patreon.com/posts/33059699
https://www.pixiv.net/fanbox/creator/438009/post/764830
Extreme Draft Night (12 JAN) Report
This Eirika set supposed to base on the story.
She failed escape from kingdom fallen. Valter killed her and let his wyvern eat Eirika.
Supposed to stand all Sacred Stones princess head as Valter's collection.
Yea… I skipped this one and only draw Eirika's head.
…
I have been testing another speeding drawing again. I tested this before.
[Pixiv] 丸焼きニダリー Nidalee Barbecue (LoL)
artworks/71484225
I would add another tag for this speed drawing. User can search this easier.
(FanBox) ラフ画
(Patreon) Rough Drawing
These rough drawing basically won't be resume again. So this is different to tag "WIP".
I also would add back the character title for tags.
These tags drawing would similar to tag "XNALARA" or "Illusion". Supposed to be exculsive content.
I properly don't share these drawing to my Pixiv. (If I really haven't work to publish. I may select some of them and publish to my Pixiv)
…
I don't often draw dragon. You can see the dragon looks so shitty.
I'm not good at drawing background and non-human. But I always want to try draw vore theme.
This supposed to be present more drawing. Or just free draw that without thinking too much.
Maybe there would be much decapitated head.
I often think decapitated head for the first idea. This is my fav. extreme theme. (Next is hanging ; and then Cannibalism)
But decapitated head mayn't so presentable as this just a head…
So I often turn into different theme when it turns to real drawing. You can imagine every drawing I just show decapitated head. You would get bored very quick.
★ Twitter - https://twitter.com/wingr2000 ★
★ If you enjoy my work, supporting me on Patreon / Fanbox (R-18) ★
https://www.patreon.com/wingr2000?ty=h
https://www.pixiv.net/fanbox/creator/438009
https://www.hiccears.com/artist-profile.php?apid=24979 (For China Users)